Invisalign® in Kingston
---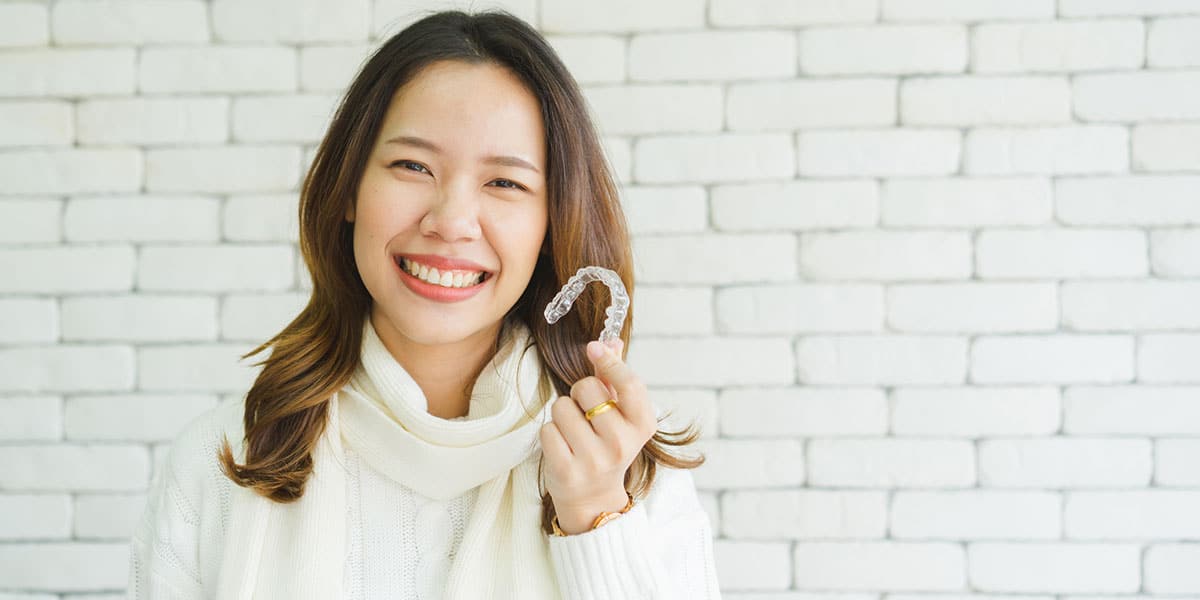 ---
Gardiners Dental Clinic provides Invisalign in Kingston, ON. Call +1-613-544-2224 to learn more and schedule your appointment.
---
Invisalign has revolutionized the field of orthodontics by introducing a completely new approach to straightening teeth. Now, instead of using brackets and wires to push and pull teeth into new positions, we can use clear, comfortable plastic aligners to gently move teeth into proper alignment.
Patients are usually interested in Invisalign as an alternative to traditional metal braces because its aligners are virtually invisible, but being discreet is just one of many benefits when it comes to Invisalign. Unlike braces, you'll be able to remove your aligners whenever you need to, so you'll be able to continue to eat all of your favourite foods and brush and floss like you normally would. Because Invisalign is made with smooth, thin plastic that fits flush against your teeth, you'll also find that your aligners are more comfortable than braces, which can cause irritation to the soft tissues of the mouth. Best of all, Invisalign is just as effective as braces for most patients—you don't have to compromise results to get discreet orthodontic treatment.
---
---

---
The Invisalign Process
---
Your Invisalign treatment begins with state-of-the-art digital impressions, which allow us to create a three-dimensional model of your smile on our computer. With this model, our doctors plan the precise movements of each tooth during your treatment. This plan is sent to Invisalign, where your aligners are fabricated.
Approximately every two weeks, or as directed, you'll switch to the next set of aligners right at home, with each set bringing you a little bit closer to your beautiful new smile. We'll ask you to come to our office every six weeks so your doctor can monitor your progress. As long as you wear your aligners for the recommended 20 to 22 hours a day, you can expect your teeth to shift into correct alignment, improving your smile and your bite.
Call +1-613-544-2224 to schedule your appointment.
---
Frequently Asked Questions About Invisalign
---
How much does it cost to get Invisalign in Kingston, Ontario?
---
The cost of Invisalign in Kingston, ON ranges between $2000 and $8000. The exact price depends upon the amount of orthodontic correction you need—if you need significant correction, you'll need more aligners and a longer treatment, which makes Invisalign more expensive.
---
How long does Invisalign take to straighten teeth?
---
The average length of Invisalign treatment is 12 to 18 months, but this depends upon the number of aligners needed and your compliance with the program. If you take your aligners out often and leave them out for extended periods, your treatment time will be longer.
---
How effective is Invisalign?
---
There are some orthodontic cases where Invisalign either isn't a solution or isn't the best fit, but for everyone else, Invisalign is just as effective as traditional braces.
---
Which is better, Invisalign or braces?
---
Because Invisalign and braces are equally effective when it comes to straightening teeth, the answer to this question comes down to your lifestyle and personal preferences. Most patients choose Invisalign over braces because it's discreet, comfortable, and convenient.
---
How long does Invisalign last?
---
Each set of aligners is meant to be worn for about two weeks. When treatment is complete, you'll receive Vivera retainers from Invisalign—these are made with a thicker, sturdier plastic that is meant to last for a few years.