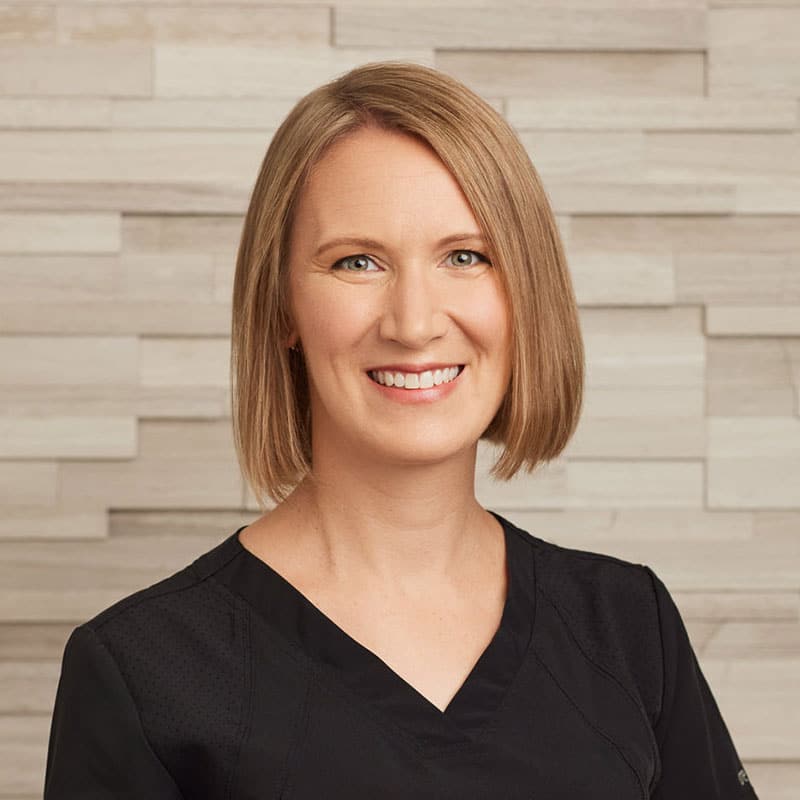 ---
Dr. Stephanie Dobney had an unconventional path to her career in dentistry.  Growing up in the small town of Port Hope, Ontario, Dr. Dobney learned from a young age the importance of forging strong inter-personal relationships; integrity, living where you work and being a part of a community were cornerstones of her upbringing.
After attending Trinity College School in Port Hope, she was awarded the Chancellor's Scholarship to Queen's University, which allowed her to carry on the family tradition of attending Queen's.  At Queen's, she earned a Bachelor of Science (honours) degree and was presented the Medal in Biology in her graduating year.  She continued on at Queen's to complete her Master's degree in biochemistry.  Inspired by her father's long and fulfilling career as a dentist, after concluding her graduate work, she made an unexpected change in her path toward the study of dentistry.
Dr. Dobney attended the University of Western Ontario for her dental training.  She was honoured to receive numerous clinical and academic awards and scholarships throughout her time at the University of Western Ontario; most notably the Dr. Paul S. Sills Award in Prosthodontics, The Michael Brooke Award in Oral Medicine, and the prestigious UWO Gold Medal in dentistry in her graduating year.  As a second-generation dentist, Dr. Dobney went directly into private practice upon graduation in 2010, working alongside her father in Peterborough, Ontario.  In this associateship, she was fortunate to work with two experienced dentists who generously shared their wealth of knowledge and supported her learning in a wide range of clinical aspects of dentistry.  These mentors also instilled communication, compassion, ethics, and integrity as the foundation for her practice philosophy.  Upon her father's retirement from dentistry, Dr. Dobney decided to move to Kingston, where she has fond memories from her Queen's University days.  She is delighted to call Kingston her home and has been proud to serve the greater Kingston area since 2013.
Dr. Dobney is pleased to offer services in all areas of dentistry, including sedation dentistry.  She emphasizes communication, collaboration, and patient comfort in her clinical practice.  A life-long student with a passion for learning, she has a special interest in implant dentistry and has completed mini-residencies and advanced training in oral surgery and implant placement.  In her leisure time, Dr. Dobney enjoys spending time with her husband and two daughters, her extended family, and friends.  She is an avid knitter and enjoys kayaking, gardening, and even a little Nintendo.  She is a member of the Ontario Dental Association, Canadian Dental Association, Kingston District Dental Society, and the International Team for Implantology.  Dr. Dobney looks forward to meeting you and helping you keep your and your family's smiles healthy and radiant at Gardiners Dental Clinic!
---