Frequently Asked Questions (FAQs)
---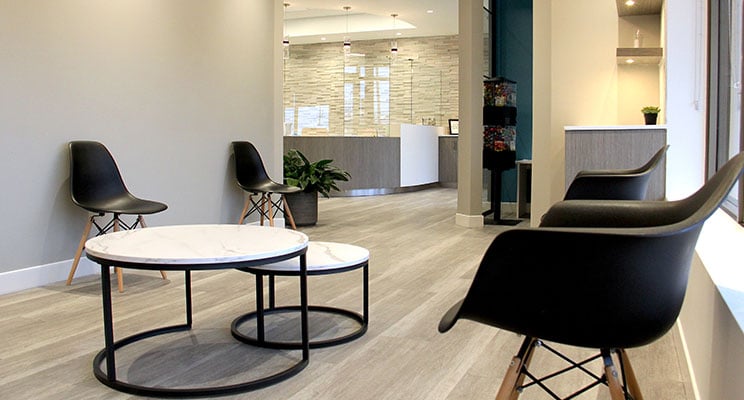 ---
Dr. Dobney and Dr. Majewska would be happy to answer any questions you might have about dental treatments as well as the Clinic.
See below for some of the more commonly asked questions that our patients have had in the past.
Keep in Touch!  If there are any questions you would like to see answered here, please let us know.  We will provide accurate, up-to-date answers to your questions, or refer you to other resources if needed.
---
About the Clinic
---
Where is Gardiners Dental Clinic?

Gardiners Dental Clinic is located at 645 Gardiners Road, across from RioCan's Home Depot and just a few blocks south of Kingston's largest mall, Cataraqui Town Centre. There is ample free parking both at front and back of the Clinic. Gardiners Dental Clinic is conveniently located on the 701 and 702 Express Bus routes with stops within easy walking distance to the Clinic. See the City of Kingston website for schedule and stop information.

What is Gardiners Dental Clinic?

Gardiners Dental Clinic is a family dental centre dedicated to providing care for children, teens and adults. We speak French, Polish as well as English and provide quality services to Kingston and the surrounding communities including Napanee, Gananoque, Petawawa, Tamworth, Seeley's Bay and the 1000 Islands. We strive to provide a wide range of dental services at our newly built location. For more information please call +1-613-544-2224 or visit us at 645 Gardiners Rd.
---
About COVID-19 virus and safety protocols
---
What is AIIR?

AIIR (Airborne Infection Isolation Removal) is a portable device used to filter air in addition to our double filtered incoming air and dedicated ducting. It has been designed and engineered in Canada and used by doctors and dentists during Aerosol Generating Procedures (AGPs). It eliminates droplet and aerosol particles, pathogens and aerosolized mercury, providing improved safety and peace of mind for patients and their health care team. By utilizing negative pressure and triple filtration system, it eliminates 97-99% of all aerosols, including SARS-COV-2, the virus that causes Covid-19.

What safety protocols do we have in place?

We have adjusted patient scheduling to enforce social distancing.
We ask that you remain in your car and call us to notify us of your arrival.
We will have a Covid-19 screening questionnaire for you upon arrival.
We will bring you directly into a disinfected room. We ask that you use the bathroom prior to arriving at the office.
We ask that you wear a mask into our office; if you do not have a mask, one will be provided for you. We will ask you to use provided hand sanitizer and mouth rinse once in the office.
We are only allowing the patient into the office and treatment room. Please notify us if you need to accompany a minor.
We disinfect the reception area throughout the day.
We wear appropriate Personal Protective Equipment, including masks, face shields, gowns, gloves, scrubs and eye-wear.
We continue to maintain highest standards of disinfection and sterilization.
---
About our services
---
How does Invisalign work?

Invisalign moves teeth into an optimal position by using clear aligners or trays, which are custom made to fit your teeth. This can take anywhere from 6 to 24 months depending on individual circumstances, with a lot of cases taking about 12 months. Invisalign can be a very effective treatment. It does require a high level of patient cooperation and just as with standard braces will require the use of retainers to maintain stability of the result. For before and after photos, see the Invisalign website.

Why do I need to have my teeth cleaned?

Teeth need to be cleaned during regular dental hygiene visits to achieve preventative maintenance, and during a deep cleaning to stop progression of periodontal disease. If you have a history of periodontal disease, you may need to get your teeth cleaned more frequently and may even need to see a specialist (periodontist) to avoid progression of the disease or infections. If you have a lot of bacteria build up in your mouth, it can irritate your gums causing them to bleed easily during a cleaning or during brushing. If you suffer from chronic conditions such as heart disease or diabetes, you may also need to have your teeth cleaned more often due to a link between these conditions and dental problems.

What is the advantage of digital X-rays over regular X-rays?

Dental X-rays (radiographs) are images of your teeth. The purpose of taking radiographs is to help identify any problems such as cavities, dental decay, impacted teeth or receding bone. At Gardiners Dental Clinic we use digital dental x-rays, which offer multiple advantages over the traditional film x-rays. Digital x-rays use 70% less radiation than traditional film x-rays, take less time and are easier to take, have better quality viewing capabilities, decrease your time in the chair, can be easily transferred to other dentists or specialists when needed and are more environmentally friendly.

What is laughing gas?

Laughing gas is a colourless gas used in dentistry to achieve mild sedation, leaving you relaxed, calm and less aware of any anxiety you may feel during dental procedures. Its chemical name is Nitrous Oxide and it is a weak anaesthetic. It can be experienced differently by different people, and has been described as causing a floating feeling, sleepiness, heaviness, a tingling or numb feeling of lips, hands or feet and distortion of sounds. It is considered safe to be used on children, teens and adults.

What is a crown?

Dental crown, also referred to as "a cap", is a restorative treatment option used to improve strength, shape or appearance of a tooth. You may need a crown for your tooth following a root canal treatment, fracture or decay. Crowns are most commonly all-porcelain or all-ceramic, but can be all-resin, stainless steel or gold. They generally require two visits and several steps: the dentist prepares the tooth to make space for the crown, a scan or a mould of the prepared tooth is taken and used to fabricate the crown, the final crown is then custom fitted and cemented or bonded to the tooth.

I need a root canal treatment. What does that mean?

The ultimate goal of root canal procedure is to save your tooth and your smile. Root canal treatment becomes necessary when the pulp, which is the inner soft tissue containing blood vessels and nerves, becomes inflamed or infected. By removing the diseased pulp tissue and disinfecting the remaining space, root canal treatment helps to prevent pain, swelling or possible spread of this infection. When the pulp is diseased and root canal treatment is needed, you may have a general feeling of illness such as fever or tender lymph nodes, you may experience severe pain from the tooth or swelling. The treatment can take anywhere from 20 minutes to 3 hours depending on which tooth is being treated and individual anatomy of the tooth. Relief can be immediate, but discomfort can sometimes persist for several days after treatment and can usually be controlled using over-the-counter pain medication.

What is a dental implant?

Dental implants are the closest replacement available for missing tooth roots. They are usually made of titanium and provide the support to replace missing teeth using either options that remain in the mouth full-time (for example crowns) or solutions that are removed at night, such as dentures. Dental implant process is different for each person, and depends on the ultimate goal of the treatment. Single implant placement can be completed in 4-12 months, but more complicated cases requiring additional surgeries can take several years to complete. Dental implants can be placed by general dentists as well as by many dental specialists, such as oral surgeons, periodontists, or prosthodontists. Dental implants are considered safe and are a worth-while investment in most cases because they can help restore your smile and also prevent the development of serious dental complications.